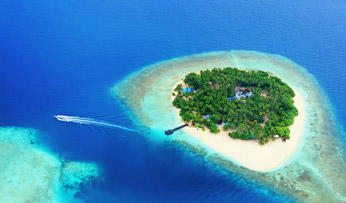 We've all heard the superlatives that fly when it comes to the Maldives - but there is so much more to this island nation than pure white sands and crystal clear waters. There's adventures to be had and local cultures to discover; but when paradise looks this good, it can be hard to lift a finger. So feel free not to. After all, a luxury holiday in the Maldives should be exactly as you want it to be.
Floating amid the warm waters of the Indian Ocean, a luxury holiday in Mauritius offers an azure-hued reset button unlike anywhere else. Whether you're drifting across glistening waters, diving down with shark researchers or immersing yourself in the melting pot of Indian, African and European influences; the every day will feel a million miles away as you dip your toe in a unique and indulgent paradise.
A veritable natural paradise, there is so much more to the Seychelles than swaying palms and pristine beaches; for it's not the paradisiacal landscapes that have captured our heart, but the heart of the islands themselves. Dubbed 'the Galapagos of the Indian Ocean', a luxury holiday in the Seychelles perfectly pairs indulgence with conservation to give you a natural wonder just waiting to be discovered.