Hotel
Hotel Le Germain, Calgary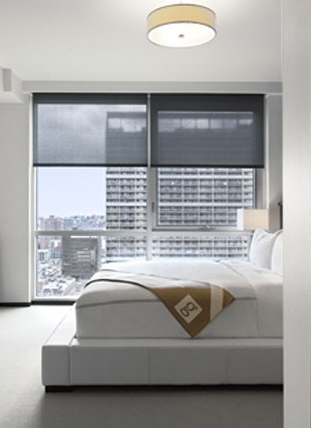 Pioneering the boutique hotel trend in Canada, it's safe to say the guys at Hotel Le Germain are real experts. With a limited number of 143 guestrooms, you're guaranteed to receive a warm and personalised service for your entire stay, whilst modern, dramatic interiors create a sleek yet comfortable and cosy atmosphere.
Location
Stay at the Hotel Le Germain and find yourself in the heart of downtown Calgary. Right in the middle of the restaurant and bar scene, expect to be spoilt for choice and kept on your toes. For the culturally astute traveller, make sure to visit the stylish museums and galleries scattered across the neighbourhood and experience the bustling art scene of downtown Calgary.
Your room
The rooms here are beautifully spacious and designed with pampering and indulgence as a priority. Experience this through the rainfall showers, goose-down duvets and feather pillows which will draw you into a deep, sound sleep. However, the most refreshing and unique aspect of the rooms are the large windows allowing you to relax and rejuvenate with a good dose of fresh Calgary air.
Why we like it
We loved the rustic cuisine served up in Le Germain's latest restaurant, 'Charcut Roast House'. Using locally sourced ingredients fresh from artisan farmers and ranches, Charcut's knows everything there is to know about where their produce comes from…including the first names of every farmer.